Японская армия в Нанкине, 1930s. Universal History Archive/UIG via Getty Images


Квантунская армия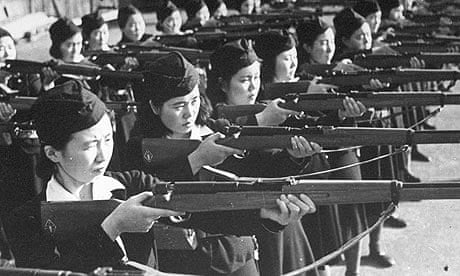 Japanese Rikuo outfit WW II



Kawasaki Ki-61 'Tony' factory



Japanese military motorcycles with Type 11 machine guns

Вторая японско-китайская (1937-1945). Трагедия Нанкина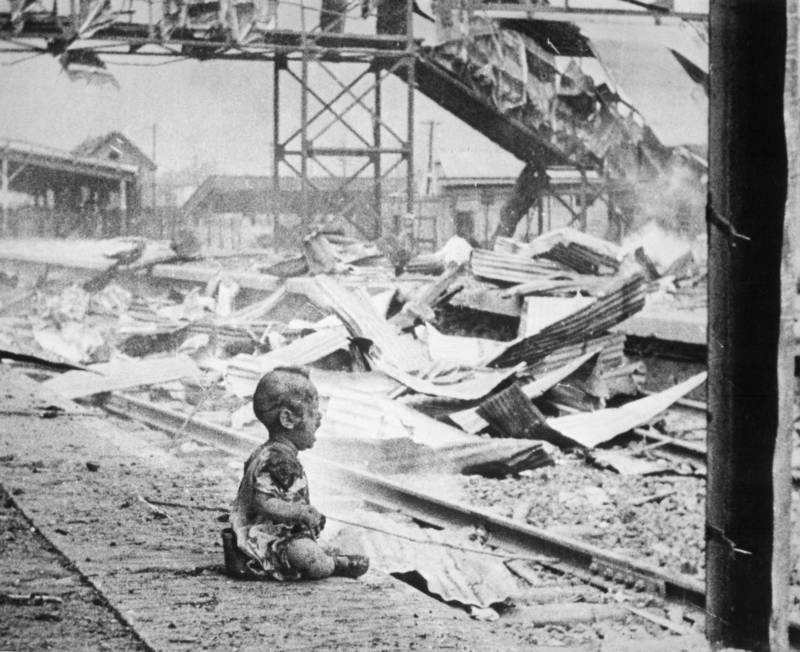 A lone child cries for his mother in the rubble of a destroyed train station. Shanghai, China, Aug. 28, 1937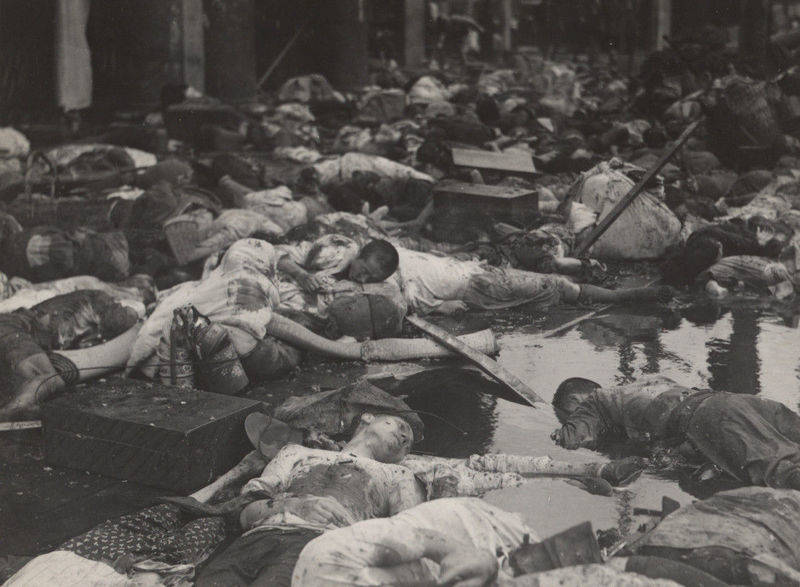 Dead civilians, shortly after an air raid. Shanghai, China, Aug. 14, 1937.



Japanese landing near Shanghai, November 1937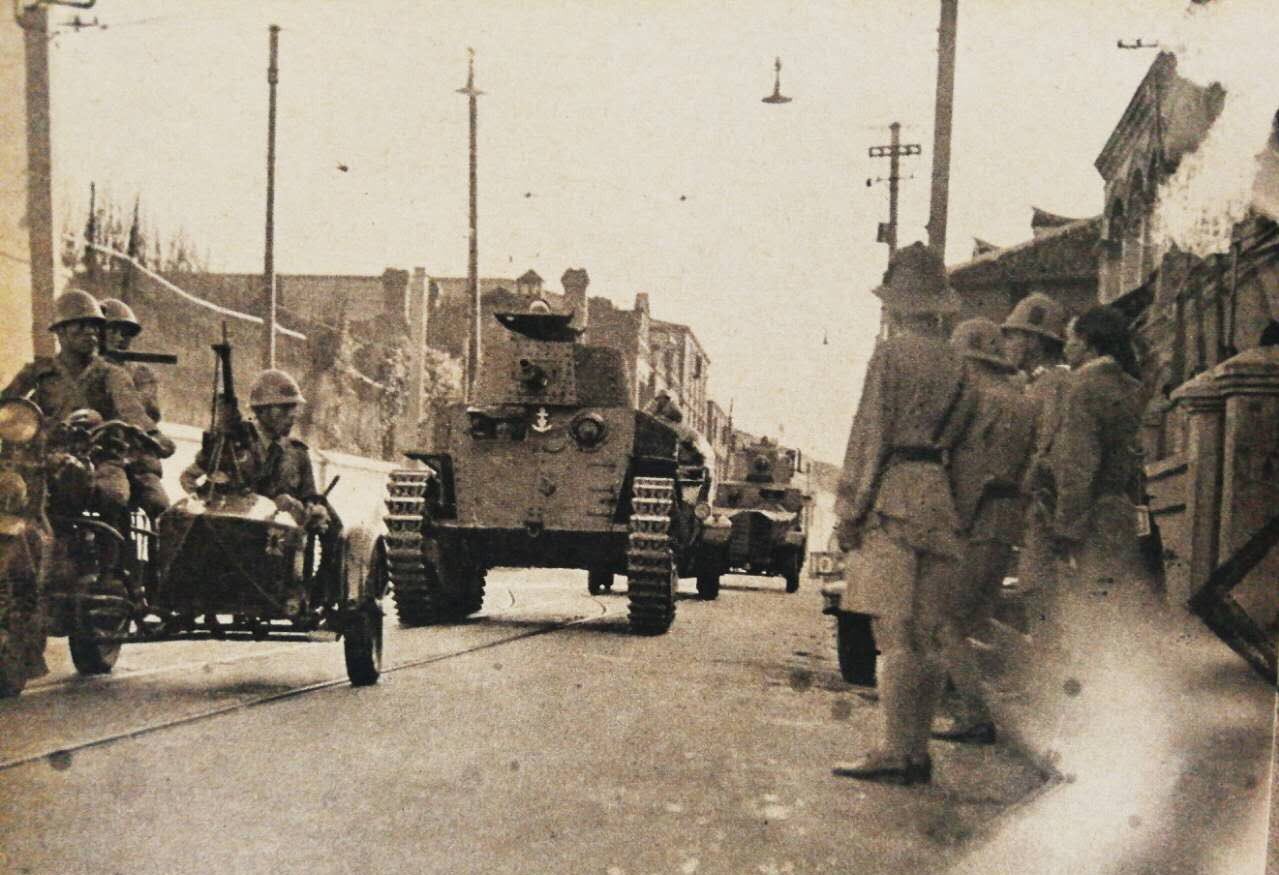 Japanese marines pass western troops during battle of Shanghai in 1937



Японские солдаты передвигаются по улице во время боя в Шанхае



Japanese troops entering Tan-yang, 3 December 1937. Коллекция Федерального архива Германии



[Photo] Japanese troops in a canal in a Chinese city, late 1937 to early 1938



The entry of the Japanese Navy Land Forces into the memorial service ceremonial site of Nanking(December 18, 1937)



Nanking, China. 1937-12. Japanese soldiers on horseback and on foot march through a viaduct into the city.



Confident Japanese troops raise their rifles into the air somewhere near the Chinese capital of Nanjing, 1937. | Location: near Nanjing, China. Image by © CORBIS



Chinese to be buried alive by Japanese soldiers during Nanking Massacre.



Photo in the album taken in Nanjing by Itou Kaneo of the Kisarazu Air Unit of the Japanese Navy during Nanjing Massacre, recording the atrocities committed by the Japanese Army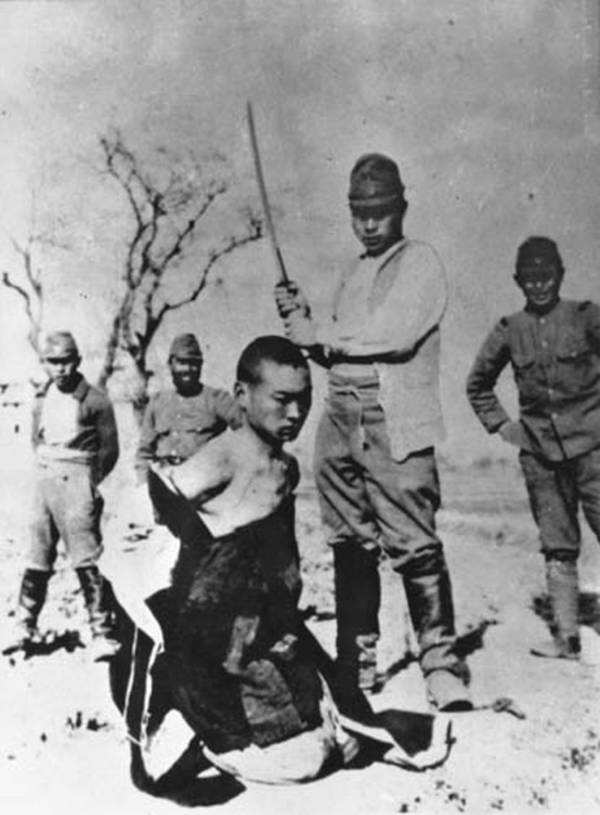 A young man awaits beheading at the hands of a Japanese soldier during the Nanking Massacre, circa 1937-1938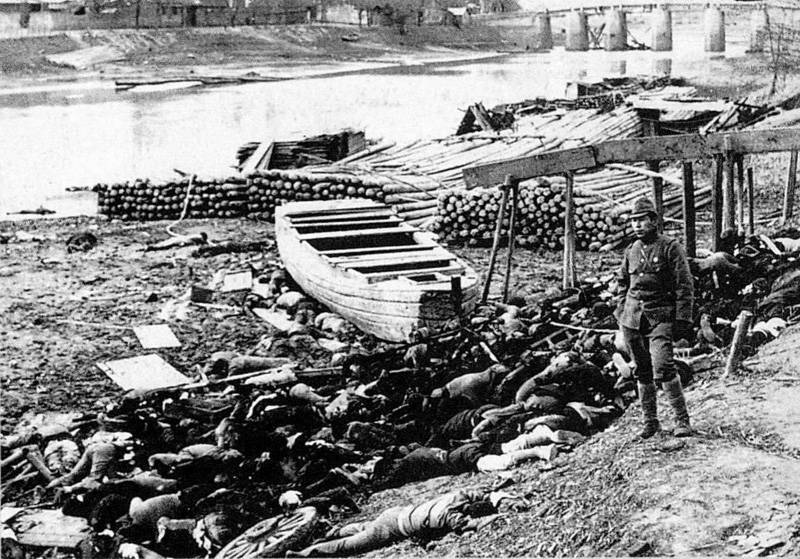 Dead bodies line the beaches of the Qinhuai River, circa 1937-1938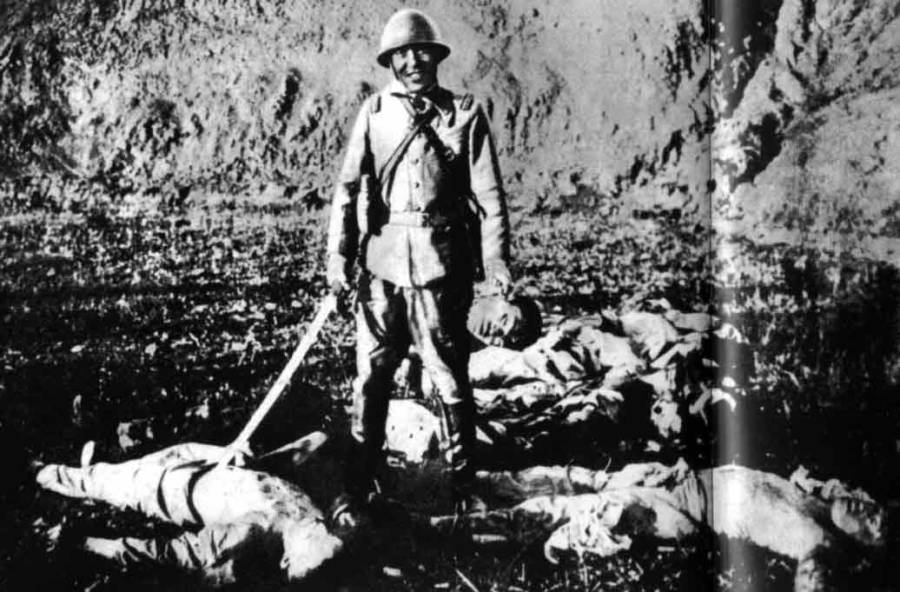 A Japanese soldier proudly holds up the severed head of one of his victims. Nanking, China, circa 1937-1938



1937- Japanese tanks pass through Chinese village as they advance along roads of North China paralleling the Peiping-Suiyuan Railway en route to Nankou Pass and Kalgan.



hinese Puppet Government Set Up By Japan In Nankin. Photographed At Pekin On January 1938. Photo by Keystone-France/Gamma-Keystone via Getty Images

Подробнее: Нанкинская резня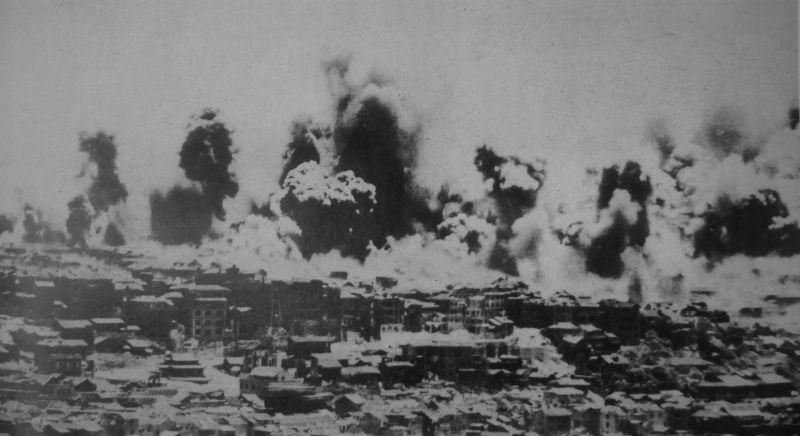 Взрывы японских авиабомб в городе Чунцин (Китай). В Чунцине во время войны с Японией находилось правительство Китая (Гоминьдан).1940

Халхин-Гол и Хасан



Japanese soldiers cross Khalkhyn Gol river, 1939



Танки РККА на Халхин-Голе, 1939



Imperial Japanese Army Cavalry at Nomanhan (Khalkhin Gol), May, 1939



Монгольский солдат охраняет пленных японцев, 26 августа 1939. Автор: Павел Артемьевич Трошкин (1909–1944)



К 21 октября 1937 года для отправки в Китай были подготовлены 447 человек, включая наземный технический персонал, специалистов по аэродромному обслуживанию, инженеров и рабочих по сборке самолётов. По «воздушному мосту» из Алма-Аты в Ланьчжоу в октябре были переправлены две эскадрильи — бомбардировщиков СБ и истребителей И-16. В ноябре 1937 года в Китай была направлена вторая группа бомбардировщиков СБ под командованием капитана Ф. П. Полынина, с этой группой прибыло около 150 добровольцев. В конце 1937 — начале 1938 года тремя группами в Китай была направлена эскадрилья истребителей И-15 под командованием А. С. Благовещенского, а к июлю 1938 года — эскадрилья бомбардировщиков СБ в составе 66 человек во главе с полковником Г. И. Тхором. В итоге к середине февраля 1939 года в Китай на разные сроки прибыли 712 добровольцев — лётчиков и авиатехников.

Подробнее по теме:
Хасанские бои
Халхин-Гольская война
Пакт о нейтралитете между СССР и Японией

Тихоокеанский театр военных действий Второй мировой войны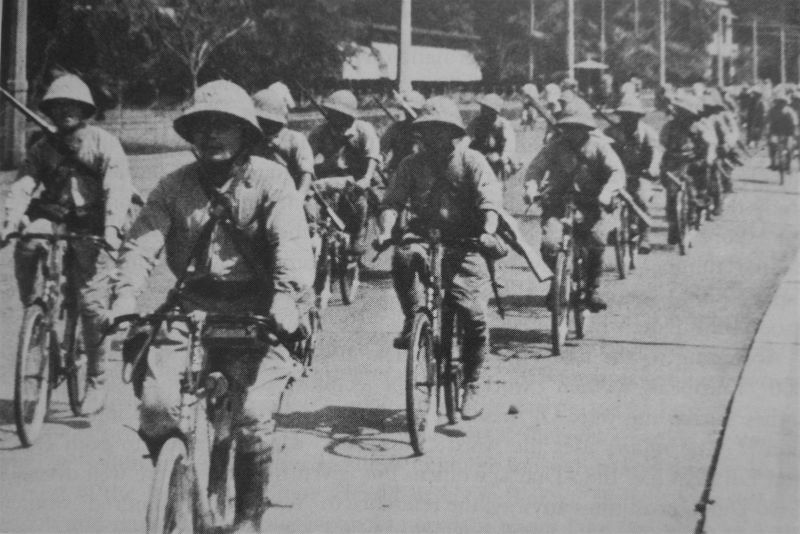 Велосипедисты японской армии едут по улице оккупированной Батавии (столица Голландской Ост-Индии, ныне столица Индонезии Джакарта).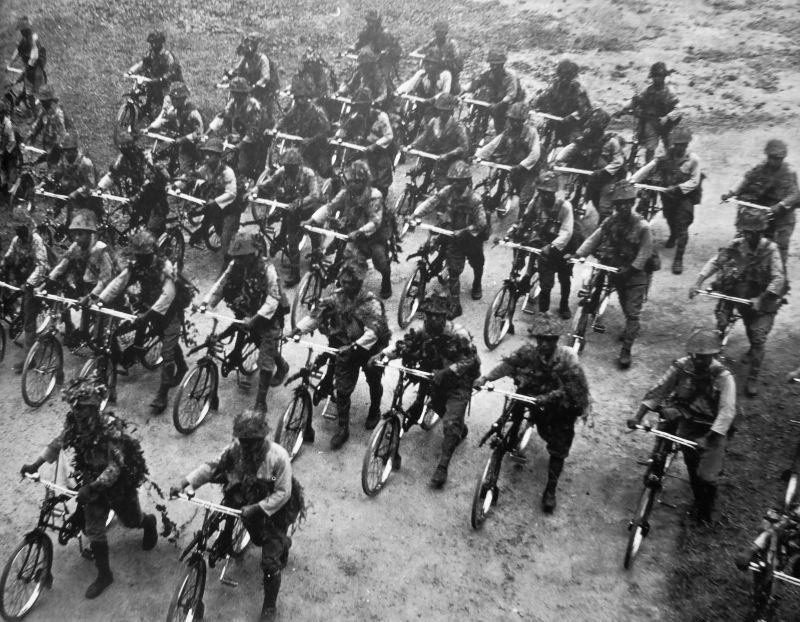 Велосипедисты японской армии во время марша во Французском Индокитае.



Hong Kong being attacked by the Japanese forces 1941



DEC 7, 1941 A Japanese bomb destroys a U.S. Navy warship during the initial attack on Pearl Harbor. Time Magazine



The First American Volunteer Group (AVG) of the Republic of China Air Force in 1941–1942, nicknamed the Flying Tigers, was composed of pilots from the United States Army Air Corps (USAAC), Navy (USN), and Marine Corps (USMC), recruited under President Franklin Roosevelt's authority before Pearl Harbor



About 43,000 Japanese troops begin the main invasion of Luzon; American and Filipino troops begin to amass on Bataan
22/12/1941



Japanese troops enter Hong Kong and march on Queen's Road led by Lieutenant General Takashi Sakai and Vice Admiral Masaichi Niimi in December 1941, after the British surrender.



British soldiers taken prisoner by the Japanese in Singapore, февраль 1942

Shigeko Kitamoto and her children are evacuated, along with others of Japanese descent, from Bainbridge Island in Washington state, on Mar. 30, 1942. Cpl. George Bushy, member of the military guard that supervised the departure of 237 Japanese-Americans for California, gives her a hand with the youngest. Buzzfeed



Internees at the relocation center. Library of Congress. The internment of Japanese Americans during World War II was the forced relocation and incarceration of between 110,000-120,000 people of Japanese ancestry. 62 percent of the internees were United States citizens.Approximately 5,000 Japanese Americans voluntarily relocated outside the exclusion zone but the majority of nearly 130,000 Japanese Americans were forcibly relocated from their West Coast homes during the spring of 1942.Nine of ten camps were closed by the end of 1945. The Tule Lake camp, which held those scheduled for deportation, was not closed until March 20, 1946.



A camouflaged Abraham Crijnssen, blending into the tropical backgrounds. Traces of War, 1942



"Marines storm Tarawa. Gilbert Islands." WO Obie Newcomb, Jr., November 1943



Japanese soldiers with artillery, Attu Island, Alaska, May 1943



The first wave of LVTs moves toward the invasion beaches of the Peleliy Island, passing through the inshore bombardment line of LCI gunboats. Cruisers and battleships are bombarding from the distance. The landing area is almost totally hidden in dust and smoke. Photographed from a USS Honolulu (CL-48) plane. September 15, 1944.



The U.S. Navy battleship USS Pennsylvania (BB-38) leads USS Colorado (BB-45), USS Louisville (CA-28), USS Portland (CA-33), and USS Columbia (CL-56) into Lingayen Gulf before the landing on Luzon, Philippines in January 1945



History: Feb 19, 1945: Marines invade Iwo Jima



Flag Raising on Iwo Jima, 1945



MAR 4, 1945 Manila officially liberated, but the city is devastated by bombing and the Manila Massacre, in which about 100,000 people were killed.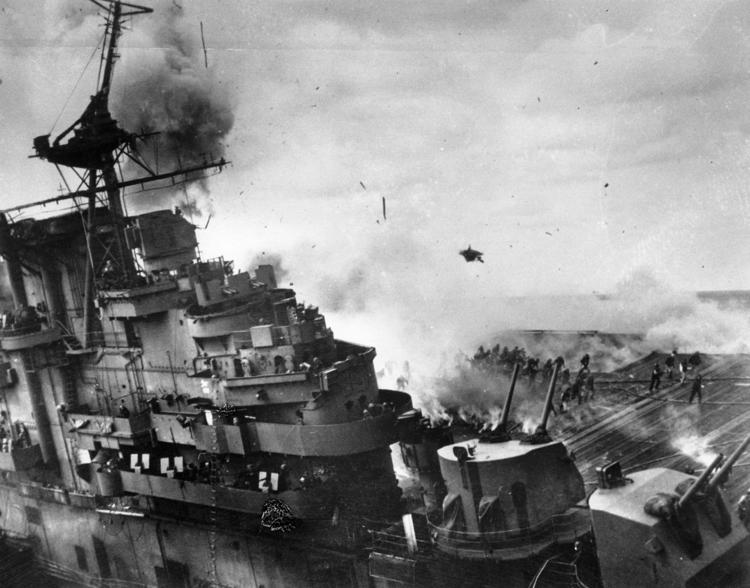 An explosion rocks the USS Franklin after being hit by two 500 pound armor-piercing bombs from a Japanese dive bomber, on March 19, 1945, off the coast of Honshu, during the Okinawa invasion. (AP Photo)



1 April, 1945: In the largest amphibious assault of the Pacific theater, US Army, Marines and 5th Fleet invade the island of Okinawa.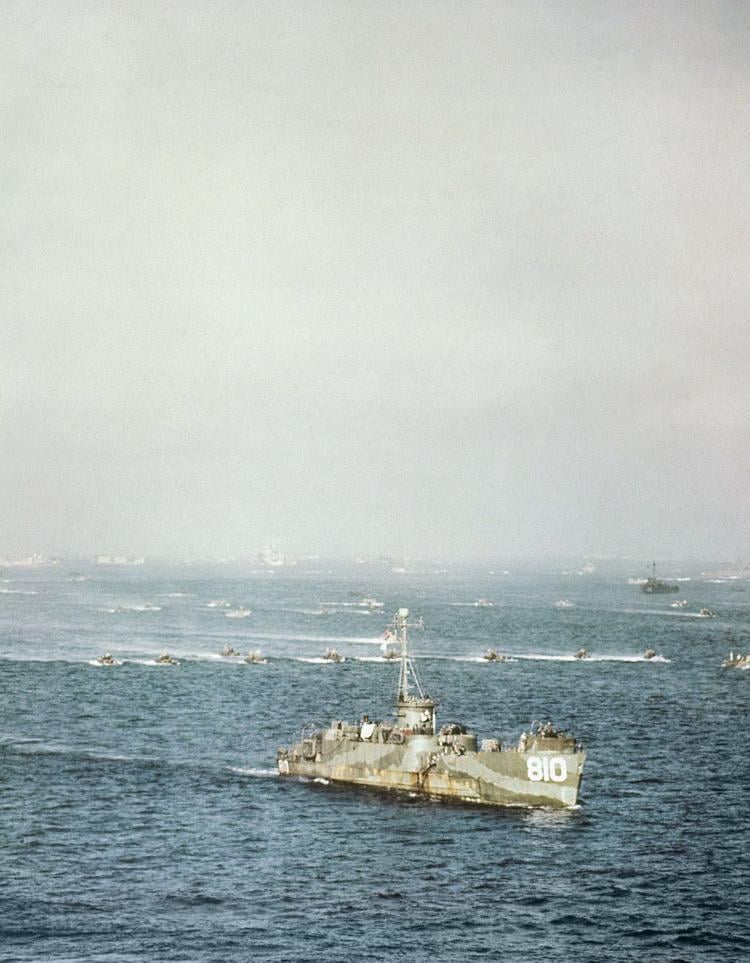 Landing craft with U.S. infantrymen aboard heading into beach on April 1, 1945, during the invasion of Okinawa against Japanese forces. (AP Photo)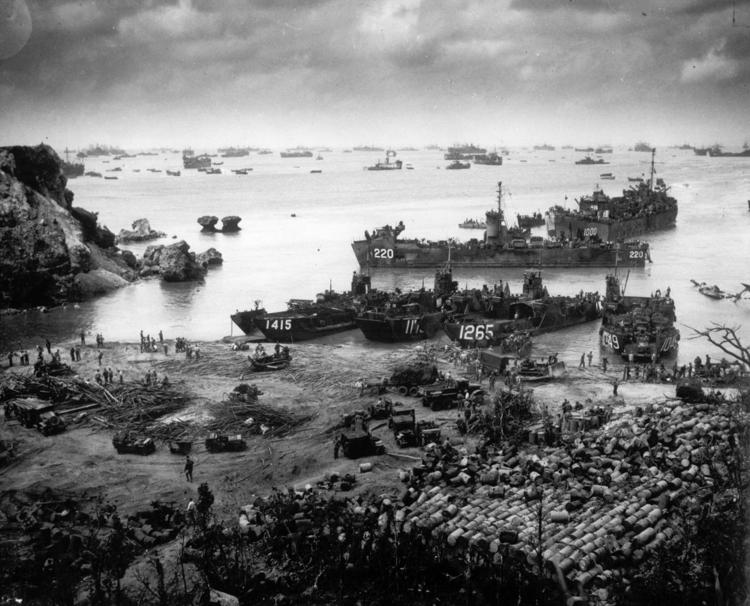 In this photo provided by the U.S. Coast Guard, U.S. invasion forces establish a beachhead on Okinawa island, about 350 miles from the Japanese mainland, on April 13. 1945. Pouring out war supplies and military equipment, the landing crafts fill the sea to the horizon, where stand the battleships of the U.S. fleet. (AP Photo/U.S. Coast Guard)



American ships landing troops and supplies on a beach on Okinawa, Japan, 13 April 1945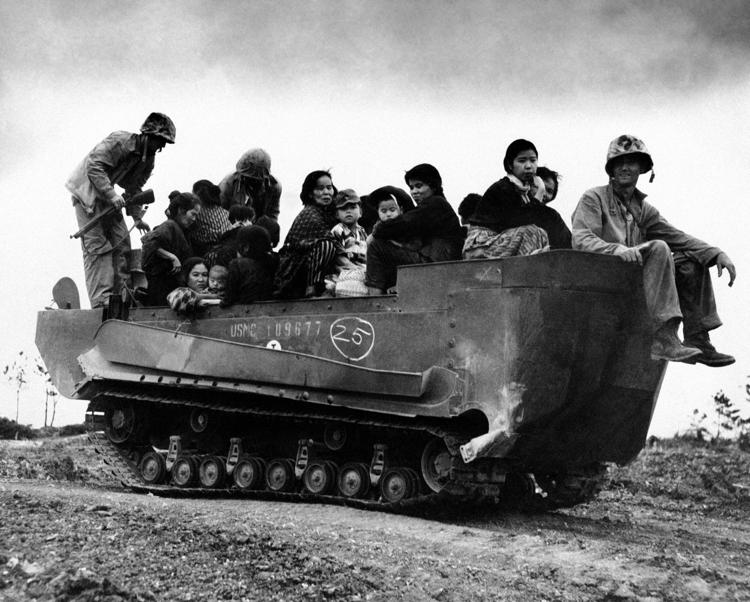 In this image provided by the U.S. Coast Guard, Okinawan women and children as they are "taxied" in a Marine amphibious invasion craft to a refugee camp away from the gunfire on the Ryukyu islands stronghold on April 27, 1945. (AP Photo/U.S. Coast Guard)



WW2 Japanese Soldier Kamakazee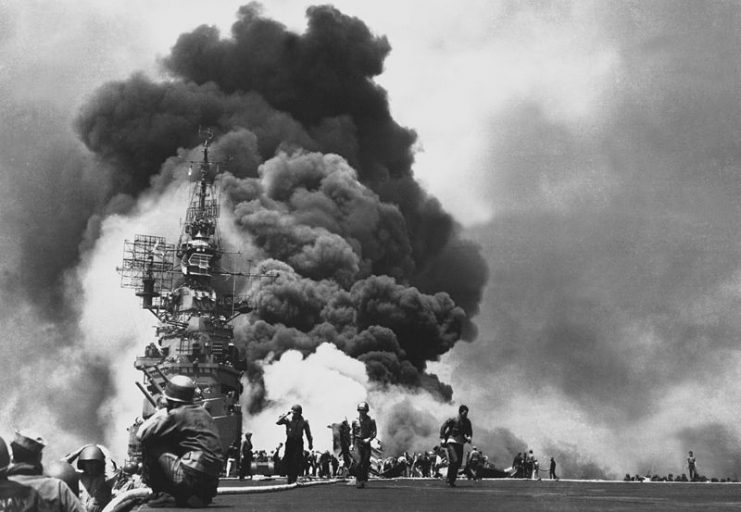 USS Bunker Hill following two successful kamkazi attacks at Okinawa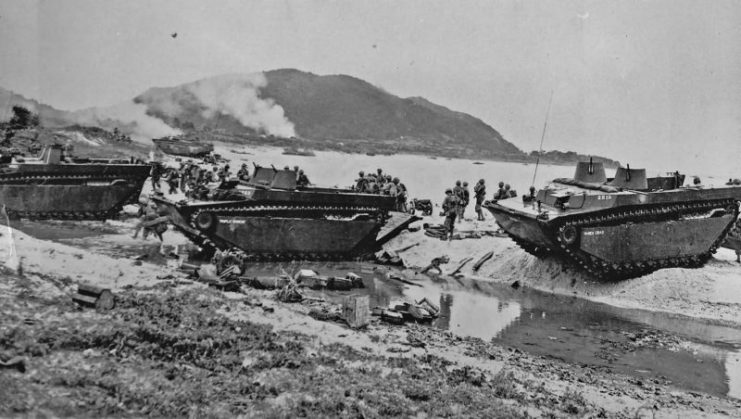 Marines and LVT on the beach of Iheya Jima Off Okinawa 16 July 45



Japanese child soldiers captured during the Battle of Okinawa 1945



The city of Toyama, a large producer of aluminum in Japan during WWII, burns after 173 American B-29 bombers dropped incendiary bombs on the city, August 1, 1945

Хиросима и Нагасаки. Вступление в войну СССР. Капитуляция Японии



Japan's Foreign Minister signing his country's instrument of surrender aboard the USS Missouri

Фоторепортажи о бомбежках Хиросимы И Нагасаки
Атомная бомбардировка г. Хиросимы военными США, 6 августа 1945г
Эпицентр ядерного взрыва глазами фотографа
... и еще один "юбилей" - 75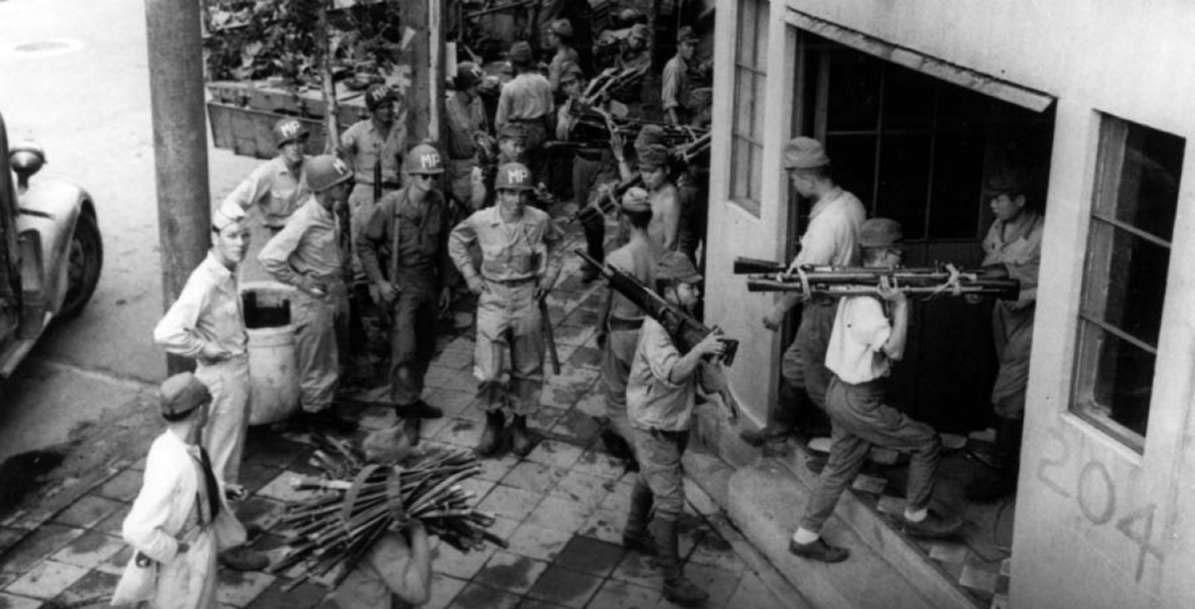 MILITARY POLICEMEN STAND GUARD as Japanese soldiers carry rifles, light machine guns, and side arms from trucks into a building used as a collecting point



Disarmed Imperial Japanese soldiers are marched out of Singapore towards prisoner of war camps while guarded by Indian soldiers of the 5th Infantry Division. Singapore, September 1945.BRITISH REOCCUPATION OF SINGAPORE



A long line of Japanese officers wait to surrender their swords to the 25th Indian Division at Kuala Lumpur.



US Marines - Surrendered Samurai swords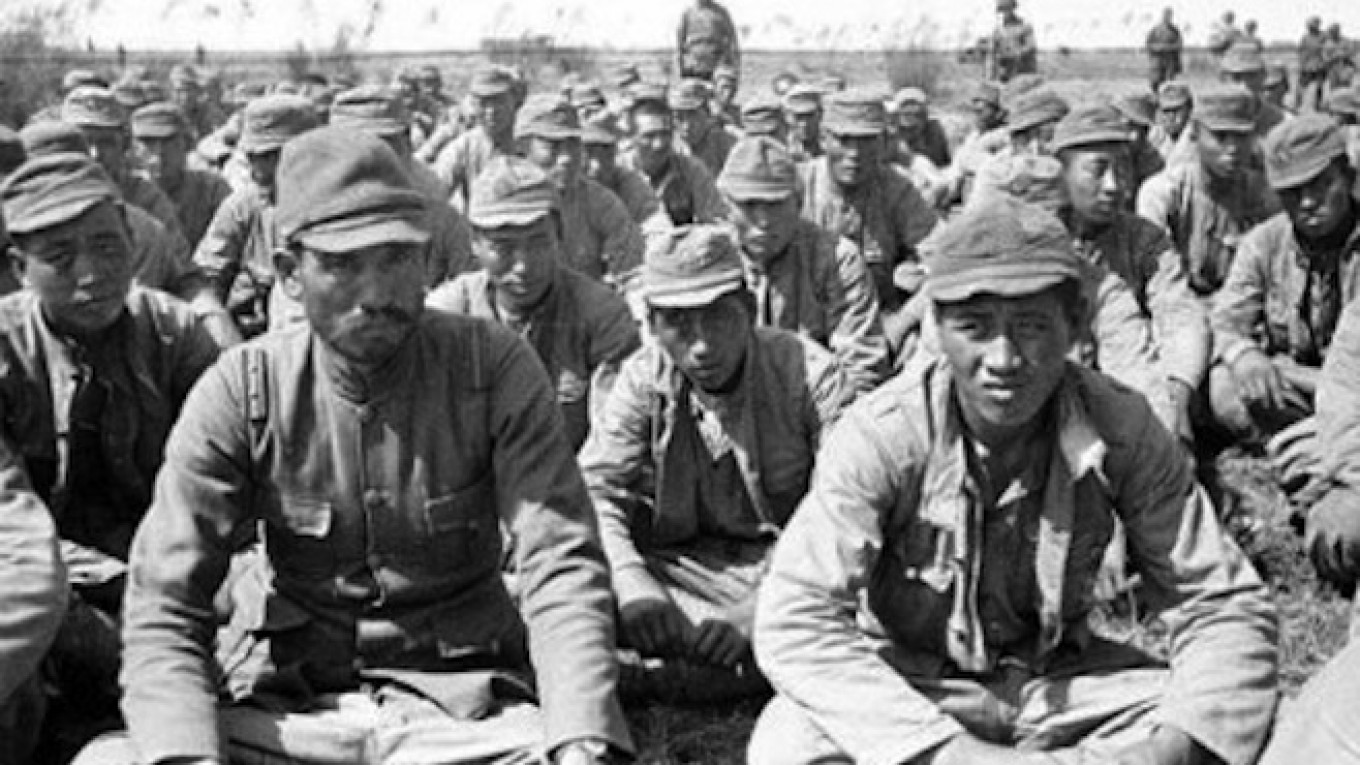 Japanese POWs working at Soviet labor camps

Подразделение 731. "Опыты" японских медиков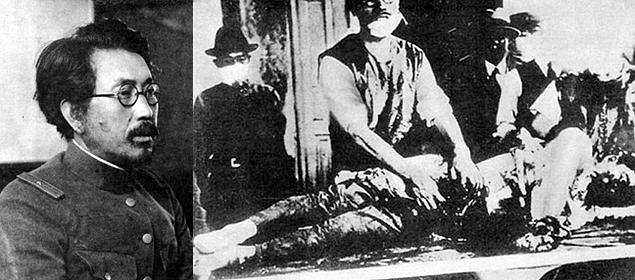 After studying medicine and microbiology at Kyoto University, Ishii started to work in the army, and in 1921, he started to work as an operator and ended up in 1945 as a Chief Doctor. The methods he used in until he ended up in this position are more than inhumane.The brutality of Dr. Shiro Ishii and his colleagues were kept secret for years. Thousands of people lost their lives and in the 1980s this massacre took part in the media, Ishii avoided all charges because he'd died on October 9, 1959



Fearful exposes of Japanese Unit 731's crime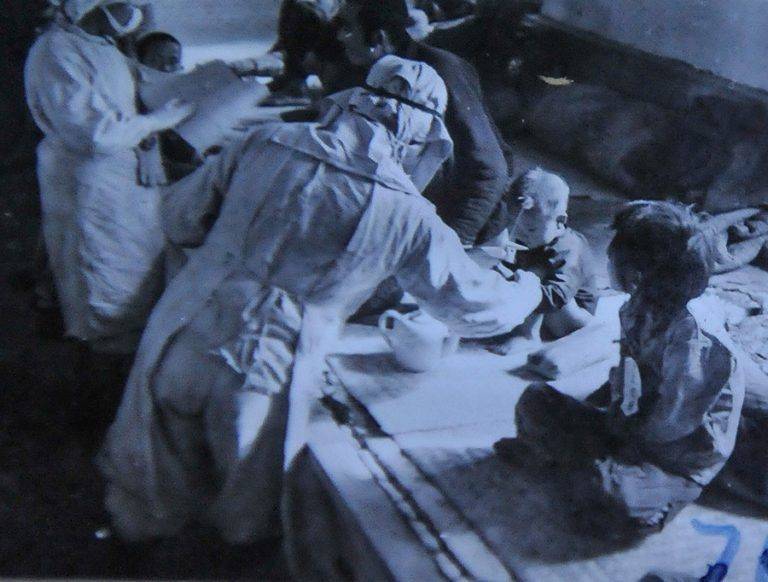 Japanese scientists conduct germ warfare experiments on Chinese children. Jilin Province, November 1940.

Подробнее: Отряд 731


Ссылки по теме (из Wiki)

Empire of Japan
Политика японского милитаризма (1920—1945)
Япония во Второй мировой войне
Тихоокеанский театр военных действий Второй мировой войны
Сражения Японии во Второй мировой войне
Морские сражения Японии во Второй мировой войне

Soviet–Japanese War (August 9, 1945 - ...)
Сопротивление японских военнослужащих после капитуляции Японии в сентябре 1945 года
Российско-японские отношения